Sector 80, Manesar, Gurugram, Haryana, India
Ready to Move
₹5,000,000 Onwards* - Commercial, Food Court, Multiplex, Retail Shop, Studio Apartment
Elan Mercado is a commercial property offered by Elan Group. This property is been located in sector 80, Gurugram. If we talk about the location then you will find that this property is offering connectivity to places like Indira Gandhi International Airport, Cyber City, and many more places. Elan Mercado is offering retail, food court & multiplex plus 1 BHK Studio Apartments type of configurations.  The property is RERA registered with number 189 OF 2017. The launch date of this project was June 2019 and the Possession date is December 2022. The property is been Designed by world-class experienced architects.
The project is spread over a total area of 2.99 acres of land with a construction of 24 floors. Elan Mercado is offering ultra-luxurious features like Food courts, an infinity pool, cigar lounge, and many more things. This is one of the best commercial properties offering all kinds of facilities and if you invest your hard earn money in this you will get great returns in the coming years only.
Ultra-luxury of Elan Mercado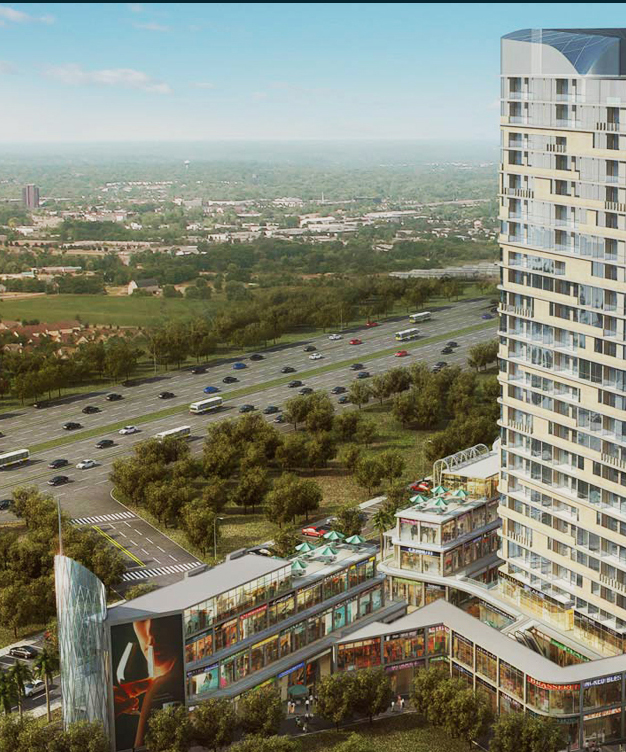 The property can be booked with 4 Lacs of down payment.
There is a total of 1 Building and 194 units designed at Elan Mercado.
The property is been surrounded by beautiful landscapes and greenery all around.
There is maximum visibility on all retail levels.
Elan Mercado is offering a musical fountain that gives a beautifully stunning look in the evening.
This property is internally very connective with high-speed elevators and lifts.
Parking is a major issue everywhere these days considering the same Elan Mercado is offering a two-level basement parking system.
Environment is depleting day by day considering the same Elan Mercado is offering facility of solar lightning and sewage treatment plant.
Foodies will become immense happy when they will see various multi-cuisine restaurants and food courts that offer 100% clean and hygienic food.
A beautiful theater experience with Multiplex 7 silver screens technology.
Safety and security are very important considering the same Elan Mercado is offering a multilevel security system with full-time CCTV surveillance and property staff assistance.
There is a separate cigar room for all smokers.
ATM facility has been provided so that you are never out of cash.
Business meetings are very important considering the same Elan Mercado is offering separate conference rooms with all kinds of facilities required for business.
There is an infinity pool also present exclusively in the 1 BHK studio apartment of Elan Mercado.
The property is Vasstu compliant.
There is high-speed fiber Wi-Fi installed so that you can work smoothly without interruption. 
Price Details Of Elan Mercado
Other Charges
| | | |
| --- | --- | --- |
| EDC/IDC | Car Parking | IF-MS |
| Rs. 446 Psf Approx. | Rs. 4 Lac | Rs. 150 Psf |
Location Adding Values To Elan Mercado
Indira Gandhi International Airport is just a drive away.
IFFCO Chowk, Gurgaon Manesar toll, etc are around the corner.
Food court, ATMs, restaurants, cafeteria, health club, etc. all are nearby located from this sector.
Cybercity is around the corner from this sector.
The property is closely located near the proposed metro station and NH8.
Many hospitals, playschools, petrol pumps, bus stations, banks, restaurants, parks, and ATMs are in close proximity.
This property is one of the best commercial properties offering luxurious amenities and prime locations.
Investment in this property is a blindfold decision with higher returns in the coming years only. 
About The Developer Elan Group
Elan Group is one of the most trusted and fastest-growing real estate companies in India. With its prestigious projects, such as Elan Mercado, the company has taken commercial real estate to an altogether new level. It is driven by the mission to introduce outstanding realty concepts and to be known for quality, responsibility, and customer service. It aims to create connections between individuals and intelligent spaces by adopting breakthrough innovations, exploring new technologies, and researching potential future spaces.