Sector 71, Gurgaon, Gurugram, Haryana, India
Ready to Move
₹6,000,000 Onwards* - Commercial, Food Court, Multiplex, Office Space, Retail Shop, Studio Apartment
M3M launched a next generation commercial mixed use development located in sector 71 Gurgaon named M3M Broadway. This commercial property is located on 150-meters wide Southern Periphery Road (Golf Course Road Extension) in Gurgaon. It offers very well connectivity from all major landmarks in Gurugram. This project is constructed on total 7.6 acres of land and offering 600 residential units in it. The property is designed and crafted by the popular Bentel Associates International. Among various other benefits of booking commercial space at M3M Broadway sector 71 Gurgaon, some of the leading benefits include 9 years lease guarantee at 9%, 18% per year. Apart from these there are some exclusive gifts and offers are also available on every booking.
M3M Broadway offering high street retail space, space for premium gym, F&B, an uber gaming arcade, bowling zone apart from this most importantly Grade 'A' office space are also available. Apart from these serviced apartments, studio apartment, multiplex and more is also there which makes M3M Broadway complete. You would be fascinated to see iconic grand entry, grand boulevards offering perfect connectivity, and seamless vertical and horizontal connectivity for incomparable shopping experience. This Commercial property of Gurgaon is value for invest your time and money. It offers double height retail shops in the front of the property which allows high visibility to these shops as these shops facing towards the 150mtr wide Southern Peripheral road. M3M Broadway sector 71 Gurgaon is going to be shopper's paradise as it is surrounded by opulent residential societies.
Highlights

M3M Broadway

:
Total floor plate or Floor area of M3M Broadway is 33000 sq. ft.
Base selling price of M3M Broadway is Rs.11,950/sq. ft.
There is a pre -handover rental of 10% pa.
The Lower Ground and Ground Floor of the property offer a variety of shop sizes and assisting retail outlets.
The first and second floor is offering restaurants and food court facilities.
Third and fourth floors are dedicated for the multiplex
Keeping in mind about the kids M3M offering a Family Entertainment Zone (FEZ) at M3M Broadway.
The lead designer of M3M Broadway is Zubin Cooper, a renowned name with over 2 decades of experience.
The shops are double heights with clyster clear visibility thus enhancing experience of visitors.
The property is been surrounded by greenery and beautiful landscapes, so that you breathe in fresh air all the time.
All kinds of multinational clothing, footwear, electronics, retails, high end studio apartments, etc are present, which will give you variety of products.
M3M Broadway
Price List :
Floor
Size (SQFT)
Price (PSF)
Booking Amount

Lower Ground
Retail Shops

300 – 2500
On Request
5 Lac
Ground Floor
Retail Shops
1000 – 2500
On Request
5 Lac
Upper Ground Floor
Retail Shops
300 – 2500
On Request
5 Lac
First Floor
Retail Shops
300 – 2500
On Request
5 Lac
Second Floor
Retail Shops
1000 – 5000
On Request
5 Lac
Third Floor
Retail Shops
1000 – 5000
On Request
5 Lac
Office Space
1000 – 5000
On Request
5 Lac
Service Apartment
676 – 1473 
On Request
10 Lac
Ultra – luxury at M3M Broadway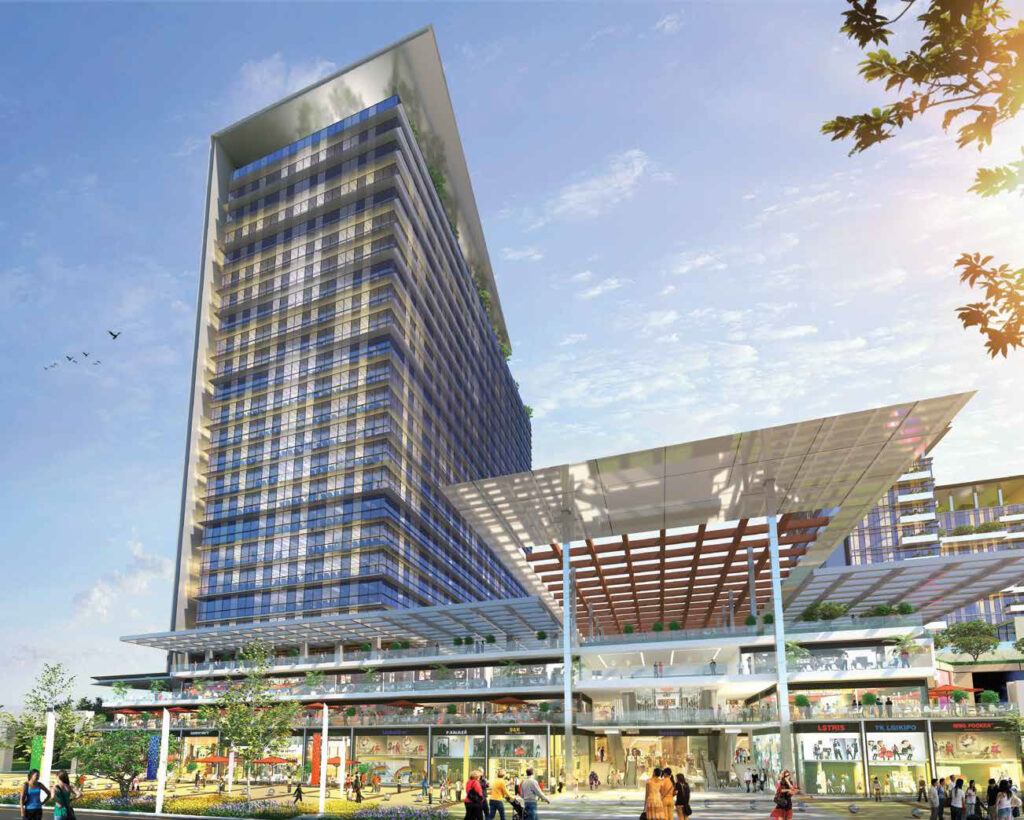 High speed escalators and lifts are installed in property which allows fleet moment all around the property.
Parking is very major concern in Delhi-NCR considering the same offering abundant of parking space.
Safety is first and foremost priority considering the same full time CCTV surveillance with property staff assistance is available.
A special gaming zone is designed, so that you can enjoy various games of your choice.
Bowling is very beautiful games and a special area is dedicated for bowling.
World class GYM facility with all kind of latest and modern equipment with experienced trainer to take care of your health.
There are various multi cuisine restaurants, food courts and lot more so that your taste buds can enjoy different types of spices.
There is uninterrupted supply of power and water facility at M3M Broadway, so that your routine life is never disturbed.
M3M Broadway Location adding values
Golf Course Extension Road and Sohna Road is having great connectivity from this sector.
Huda City Centre station (Yellow Line) which is 8 km away which can be easily reachable.
Railway Station of Gurgaon is just a drive away.
Some of the prominent schools like GD Goenka School, DAV Public School, The Paras World School, St. Xaviers High School are just around the corner.
Park Hospital and Medanta are some of the prominent hospitals around the city.
DLF Corporate Greens, Skyview Corporate Park, Candor Techspace, Vatika Professional Point, IRIS Tech Park and Bestech Business Tower are some of the corporate hubs in close vanity.
Rajiv chowk is easily located from this sector.
USP of the location is you get signal free access to Jaipur highway & Sohna road. M3M Broadway Gurgaon located in sector 71, and sohna road is in the close proximity to this commercial property. Delhi IGI airport is just a 30 minutes drive away from M3M Broadway. This commercial project is around just a 15 minutes drive away from Rajiv Chowk and also positioned along the Transit Development Corridor. This real estate masterwork is designed to raise an international charm with nonstop boulevards that give full view of the retail shops which changes the shopping experience into a fantastic shopping walk to walk to remember.
About The Developer
M3M Group is offering lavish commercial property named as M3M Broadway. This luxury property is been located in sector 71, Gurugram. This is the centre location offering great connectivity from the city and nearby areas. From the investors point of view this location adds great value to rental and as well as resale value of any property. M3M Broadway is offering, 22 storied finest business spaces, high street retail shops, 12 storied studio apartments, a multiplex, Family Entertainment Zone, fine dining restaurants and lot more exciting things.
All kinds of luxury and multinational brands will be found at M3M Broadway. The architects those who have designed this property are highly experienced and professional. In terms of amenities also this is one of the best with all kinds of Top-notch facilities and lot more. There are various shops ranging from 300 – 1200 sq. ft. of area.
M3M Broadway is one of the best commercial offering all kinds of finest luxury, features and location. Investment in this property is very wise decision with higher returns on coming years.
Why M3M Broadway is Best?
Nestled in the heart of Gurugram, M3M Broadway stands as a pinnacle of opulence and business acumen. This next-generation commercial marvel, located in sector 71, Gurugram, is not just a property; it's a lifestyle statement. Crafted on a sprawling 7.6 acres, it offers 600 residential units and an array of commercial spaces designed by the renowned Bentel Associates International. M3M Broadway is more than a shopping destination; it's an experience. From double-height retail shops with clear visibility to the grandeur of the entryways, every detail is meticulously planned to enhance the visitor experience.
Within its precincts, M3M Broadway offers a diverse range of high street retail spaces, premium gyms, fine dining restaurants, and even an uber gaming arcade and bowling zone. The property's Grade 'A' office spaces are for maximum efficiency, and there are also serviced apartments, studio apartments, and a multiplex for a comprehensive experience. With the renowned designer Zubin Cooper leading the project, every corner exudes sophistication.
Apart from the aesthetic brilliance, M3M Broadway ensures functionality. High-speed escalators and lifts facilitate easy movement, while abundant parking space eliminates the hassle of finding a spot. Safety remains paramount, with full-time CCTV surveillance and attentive property staff. Moreover, the property houses an exclusive gaming zone, a world-class gym, and a variety of multi-cuisine restaurants and food courts. With uninterrupted power and water supply, M3M Broadway guarantees a seamless lifestyle.
Additional Details
Rental Income:

12% Per Annum