Sector 83, Gurgaon, Gurugram, Haryana, India
Under Construction
₹3,500,000 Onwards* - Commercial, Food Court, Multiplex, Office Space, Retail Shop
SV Housing is proud to launch SVH 83 Metro Street a brand new commercial project in Sector 83, Gurgaon. The future of this province is all set to see a growth in every manner. SVH has created and crafted a new destination that will certainly emerge as the leader. SVH 83 Metro Street is indubitably one of its kind Commercial Projects on Dwarka Expressway Gurugram. Dwarka Expressway construction will open the new perception of the market for both connected cities named Delhi and Gurgaon.
SVH 83 Gurgaon is a prime launched commercial project on Dwarka Expressway sector 83, Gurgaon. The opening of SVH Metro Street Gurgaon will create a new horizon of economic activities in the region. The complex is loaded with world class amenities such as food court, multiplex theatre, branded retail outlets, gym, spa, and much more. The massive potential of the location can be judged by highly essential aspect like its connectivity to upcoming ISBT and Metro hub. This will provide easy Access through Dwarka Expressway and convenient transport access point near to 83 Metro Street.
Floors specifications by SVH 83 Metro Street
The Ground Floor is offering Double heights shops of 19.5 Ft (1.811609) sq mt with dedicated anchor spaces.
There is Grand Frontage of 640 Ft (59.4579 sq m) wide at SVH 83 Metro Street
You will get double rent for first floor shops for 2-years post possession.
There are bands associated like Park Avenue, ColorPlus and Raymond.
The second floor is associated with NY's Cinemas.
SVH 83 Metro Street is offering rental Rs 22 lac or 15% revenue sharing whichever is higher for second floor.
The total Multiplex area 38447.48 sq ft at SVH 83 Metro Street.
The fourth floor is dedicated for O­ffice space with personalized balconies.
There is provision for separate entry for offi­ce spaces with Triple height reception entry.
The fifth floor is dedicated for elite professionals/Doctors, labs, pharmaceutical etc.
The 6th, 10th,15th, or 19th Floor are offering pre -leased options.
The 7th, 9th, 11th, 14th, 16th, 18th, 20th Floors are offering office spaces best suited for your professional needs.
The 8th, 12th, 17th, & 21st Floors are offering pre- leased options with personalised balconies facility.
SVH 83 Metro Street, spread across 4.2 acres of land is an immense example of growth; this mixed used ultra-modern commercial development by SV Housing is predicted to give a face-lift on the map of Dwarka Expressway and is located bang opposite the proposed ISBT & Metro Hub.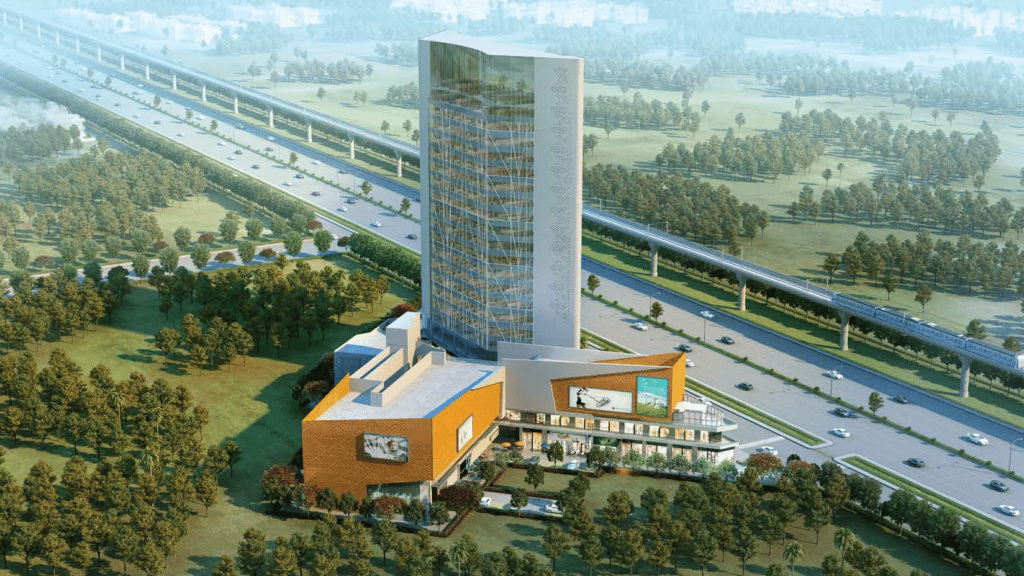 The property is functional for both office and corporate suites.
There are multi cuisine fine dining restaurants and food courts so that you can enjoy food of your choice.
There is separate entry for 5 Screen Multiplex, Retail Outlets and O­ffice Spaces with triple height reception entry.
There are grand frontage double height shops of 19.5 feet.
Parking is very major issue considering the same SVH 83 Metro Street is offering three level parking i.e., basement, stack parking, surface car parking.
Multinational brands like Moti Mahal, Pizza hut, KFC, Park Avenue, and Raymond Colour Plus.
SVH 83 Metro Street are offering Spa and well equipped gym so can take care of your health.
The building is fully Wifi equipped, so that you are connected with world.
A dedicated space for gaming arcade is also provided, so that you can enjoy to the fullest.
Some of the premium facilities like Multiple ATM accessibility, Convenience store, Coffee shops, Medical & Pharmacy, lot more for ease and convenience.
A beautiful common reception area is provided where you can wait for your near and dear once.
SVH 83 Metro Street – Location Adding Values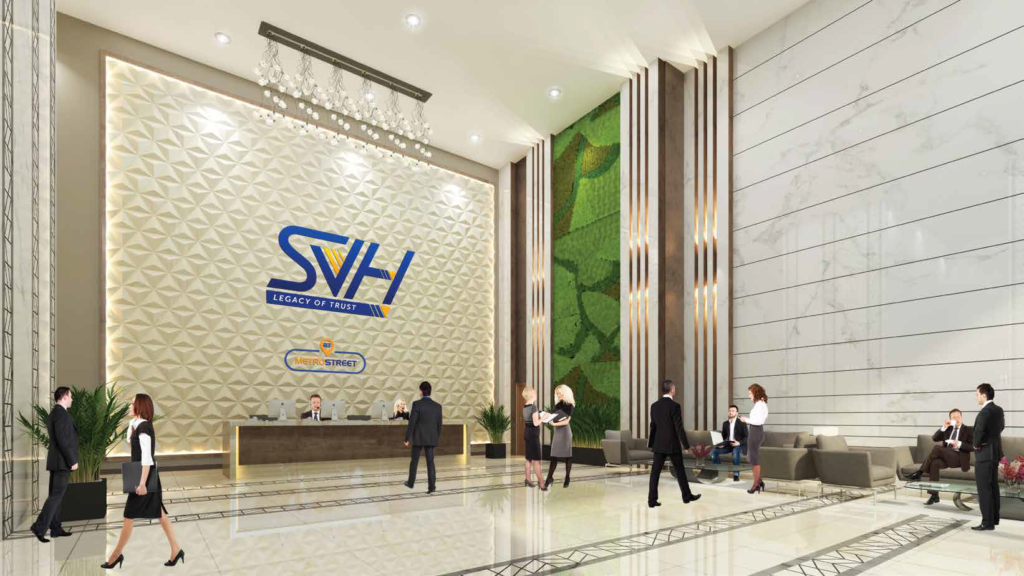 NH-48 along with the operational stretch of Dwarka Expressway, are two main roads which provides extensive connectivity from this sector.
Delhi's IGI is proximity located.
Gurgaon Railway Station is 15 km from this property.
MatriKiran High School, Yaduvanshi International School, DPS Sector 84, is some of the prominent schools around the corner.
Medeor Hospital and ESIC Hospital are some of the hospitals around in close vicinity.
Some of the corporate spaces like kyview Corporate Park and DLF Corporate Greens, Industrial
Model Township of Manesar, Suzuki Motorcycle and Carrier Air Conditioning & Refrigeration are some of the prominent business places around the city.
About The Developer:
SVH 83 Metro Street is newly designed premium commercial property offered by SVH Group. This property is been located on Dwarka Expressway, sector 83, Gurugram. This location is one of the best places for great tariff of people. The location is offering best connectivity to both Delhi and Gurugram people. This property is plethora of retail, office and entertainment spaces. ACPL has been planned and developed this project as an impulsion to revive and secure the urban structure of the city. The site is located in close vicinity of residential projects- Vatika India Next, Godrej, DLF Primus, Supertech Araville, and ATS to name a few. Grand frontage and double height shops of 19.5 feets make this project stand out from the crowd.
The property is fully RERA registered so you need not to worry about legal compliance. The architects whose who have worked on designing this property are highly experienced professionals, who have taken care of every small point in mind. If you are planning to buy a commercial property in the heart of Gurugram then you will earn great returns in coming years only. This property wonders of commercial creation and if you invest your hard earn money in this then you will get great returns in coming years only.