Sector 42, Gurgaon, Gurugram, Haryana, India
Ready to Move
₹19 Cr Onwards - Luxury Apartment, Residential
The name of this property is inspire by One of Asia's most Beautiful native plant species, DLF The Camellias – Lovely Blush – Colored Blossoms. The Camellias may vary in color from crimson to pink to ivory and are evergreen, large and visually stunning. So, It is with this collection of exquisite residences – each a representation of pure, unrestricted luxury and an invitation to a life beyond the ordinary.
The Camellias is the latest residential offering in DLF's acclaimed super-luxury portfolio. It assimilates stunning architecture, breath-taking landscape design and the learning from DLF's best developments across India to deliver a living experience far superior to anything experienced to date.
Size And Area Specifications
The 4 BHK comes with super build area of 7196.00 Sq Feet to 7685 Sq Feet.
The 5 BHK apartments comes with super build area of 9,000 – 13,000 Sq. Feet.
The 6 BHK apartment comes with super build area 11,000 – 16,500 Sq. Feet.
Luxury at DLF Camellias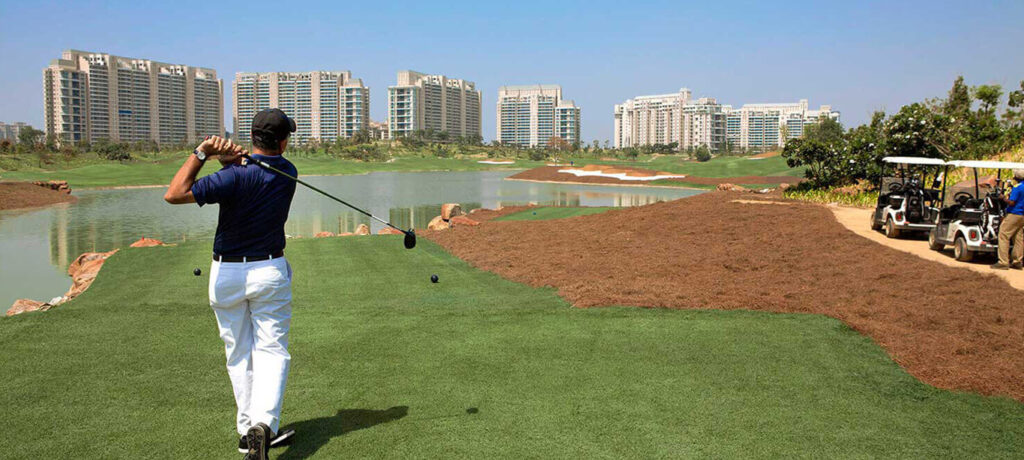 The property is ready to move in nature.
Designed as Bungalow sized residences by Padamshree Awardee Architect Hafeez Contractor.
There are 2 golf courses designed by Arnold Palmer and Gary Player.
This project is the first in India to be accredited with LEED platinum certifications.
There is high speed Wifi connectivity, so that your routine life is never disturbed.
The property is made with Vastu Compliant for mental peace and satisfaction.
The property is having 2&3 passenger lifts per tower.
There are beautiful landscape gardens offering area to chill and relax.
There is 24*7 power and water facility also available at DLF The Camellias.
To avoid parking chaos there is 3 level basement parking facility at DLF Camellias.
You won't see any kind of wiring on the walls of DLF Camellias as everything is internally fitted.
There are 2 distinctly large front facing deck provided at each apartment.
Safety of our residents is first and foremost priority considering the same there is full time CCTV surveillance with property staff assistance.
The kitchen of this property has been designed in modular design with all kinds of features that will make your cooking fun loving.  
DLF group is very much concerned about the depleting environment considering the same there is rainwater harvesting system in all their properties.
Ultra-luxury at DLF The Camellias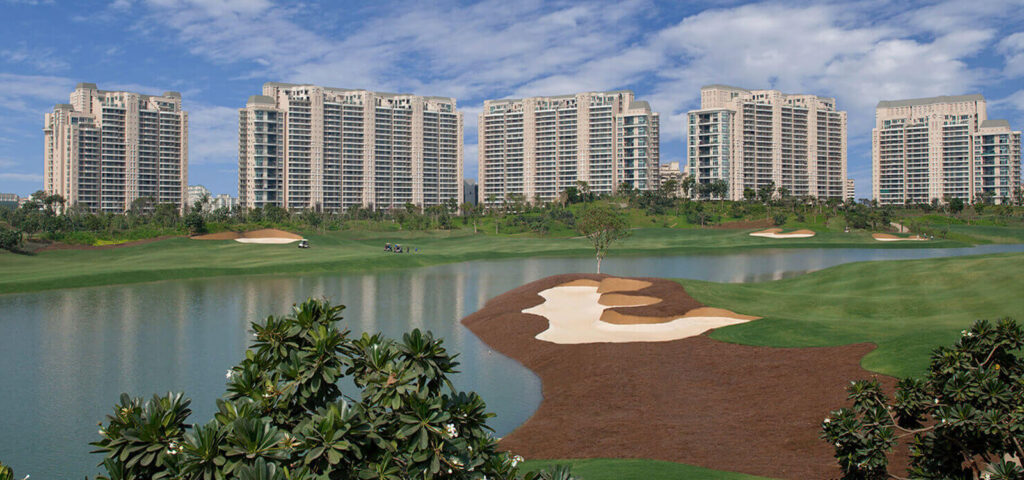 There are separate kids playing zone with lots of fun-loving games and activities like sea saws, etc.
Sports and games are very important as it helps to keep mind relaxed considering the same there are many Indoor and Outdoor games facilities offer like Badminton, cards room, carom snooker/ pool/ billiards rooms and lot more exciting things.
There is separate yoga/meditation center where you can relax your mind from daily hectic routine.
A separate creche has been provided for little once, so that parents can go to work hassle free.
There is luxurious swimming pool facility so that you can enjoy and relax to the fullest.
Gym is very important to maintain your body considering the same DLF Camellias is offering world class gym facility with all kinds of latest equipment and experienced trainer.
Soft services like Concierge, Housekeeping, Valet, Chef on call, Golf cart shuttle are easily accessible at DLF Camellias.
A multipurpose hall and a party lawn for all these events and functions is present at DLF Camellias.
Health and wellness facilities like Spa, sauna, salon is easily accessible at DLF Camellias.
A beautiful auditorium is also present in this property.
You can enjoy morning and evening jogging because a beautiful jogging track has been provided.
A unique feature of chief on call is there at DLF Camellias, so that you can enjoy cuisine of your choice.
There is separate Golf cart shuttles facility also available at DLF Camellias.
There is luxurious club house offering 6 of the very best Grand Masters of luxury from across the world.
Interior Design of Club house & Tower Lobbies are made by Shawn Sullivan, Rockwell Group (NY).
Location Adding Advantages
Indira Gandhi International Airport is just a few miles away.
Railway Station Gurugram is around half an hour away from DLF Camellias.
The property is closely located to rapid metro.
ISBT is 18km from this sector.
Many reputed schools, hospitals and malls are proximity located from this property.
Golf course extension road is proximity located from this property.
DLF The Camellias is one of the ultra-luxurious projects offer by DLF Group. The property is been located in sector 42, Gurugram. This location offers great connectivity to all the places around the city. The architects of this property are highly experience professional those who have kept everything in mind while designing this property. The property is offering luxurious 4 BHK, 5 BHK and 6 BHK apartments and penthouses. There is total 429 units, 9 towers and 38 Floors in totality.
There is 75% open area with greenery all around. In terms of amenities also property is one of the best and will definitely bring joy on your faces] Investment with DLF group is wise decision because DLF has already delivered many premium properties with thousands of satisfied customers.
One of the best properties offered by DLF Group. This luxurious residential property is offering all kinds of facilities with prime location and if you invest your hard earn money in it you will earn great returns in few years only.
Why You Should Invest in DLF The Camellias?
DLF The Camellias, nestled in Sector 42, Gurugram, is a masterpiece that combines luxury, comfort, and innovation. Inspired by the vibrant hues of the Camellia flower, this property offers an extravagant lifestyle, featuring 4 BHK, 5 BHK, and 6 BHK apartments and penthouses. Boasting 429 units across 9 towers and 38 floors, it stands as an epitome of opulence. Designed by the esteemed architect Hafeez Contractor, these homes are crafted with precision and adorned with world-class amenities.
From the moment you step in, The Camellias promises unparalleled luxury. With 2 golf courses, LEED platinum certification, Vastu-compliant design, high-speed Wi-Fi, and internal wiring, it redefines elegance. The property's thoughtful touches include rainwater harvesting, CCTV surveillance, and modular kitchens, ensuring a seamless living experience. Emphasizing holistic well-being, The Camellias offers a crèche, yoga center, swimming pool, gym, and indoor games facilities. The property is also home to a grand clubhouse, auditorium, jogging track, and lush green spaces.
Conveniently located near Indira Gandhi International Airport, Gurugram Railway Station, rapid metro, and Golf Course Extension Road, it offers easy access to essential hubs. Surrounded by reputed schools, hospitals, and malls, The Camellias promises an elevated lifestyle. Investing in this property is not just a choice; it's a guarantee of a luxurious, prosperous future, making it a prudent decision for discerning buyers.