Sector 70, Gurgaon, Gurugram, Haryana, 122012, India
Under Construction
₹15,000,000 Onwards* - Commercial, Food Court, Multiplex, Retail Shop
Elan Epic is one newly designed wonder offered by Elan Group. This Property is inspired by fictional planet 'Pandora' from the movie Avatar, where giant natural overgrown mountain ranges are suspended in space with spectacular fauna and giant waterfalls. Elan Epic is offering retail, food court & multiplex type of configurations. This property is been located in sector 70, Gurugram. If we talk about the location so you will find this is one of the best places offering great connectivity. The property is fully RERA registered with number 30 of 2018. The launch date of this project was December, 2018 and Possession date is December, 2022.
The property is been spread over 3.5 acres of green and clean land area. The property is been Designed by UHA London & Architecture by ACPL. This Ultra-luxury commercial project boasts of 9 hanging pods with a reflective glass surface and 7 silver screens multiplex for amazing theatre experience. Elan Epic is offering distinguishing feature of 2 sides open corner plot with 275 feet wide road and unique LED lightning all around the property.  All kinds of ultra-modern amenities are present, So that you can enjoy to the fullest at Elan Epic. If you invest your hard earn money in this property so you will earn great returns in coming years only.
Elan Epic Price Details
Floor
Size (SQFT)
Price (PSF)
Booking Amount
Ground Floor
Retail Shops
1000 – 2000
On Request
5 Lac
Lower Ground Floor
Retail Shops
750 – 2000
On Request
5 Lac
First Floor
Retail Shops
500 – 2000
On Request
5 Lac
Second Floor
Food Court
500 – 2000
On Request
5 Lac
Third Floor
Multiplex
4500 – 6000
On Request
10 Lac
Richness of Elan Epic Gurgaon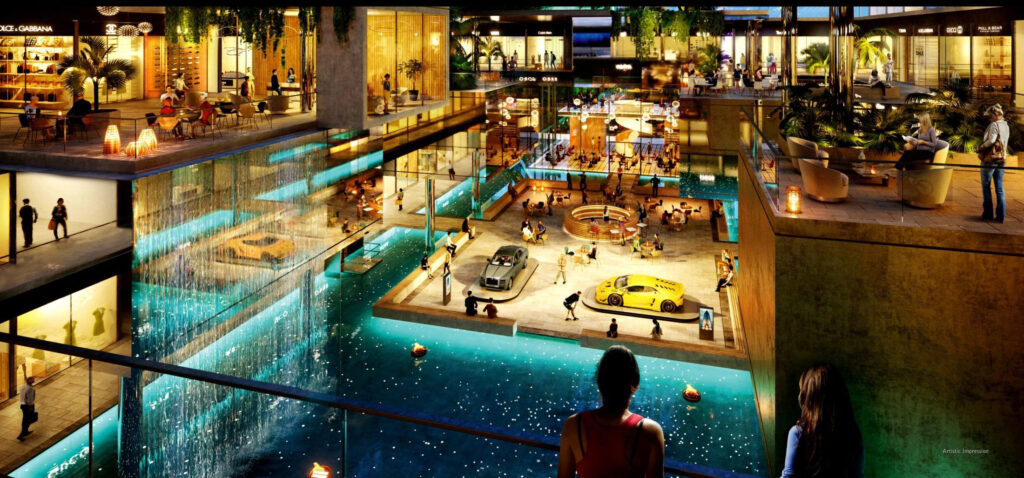 The Possession-linked Payment Plan (PLP) is 30:40:30 with an assured return of @ 12%.
The property is offering beautiful jaw dropping LED front exterior.
There is an exclusive offer of 25 Gram Gold with every booking.
There is maximum visibility on all retail levels.
A beautifully designed Central Atrium with the largest water body in a commercial development.
Elan Epic is offering musical fountain that gives beautiful stunning look in the evening.
The inner part of this property is highly connective with high-speed elevators.
There are total 404 units and 4 beautifully designed floors.
Ultra-Luxury at Elan Epic Gurgaon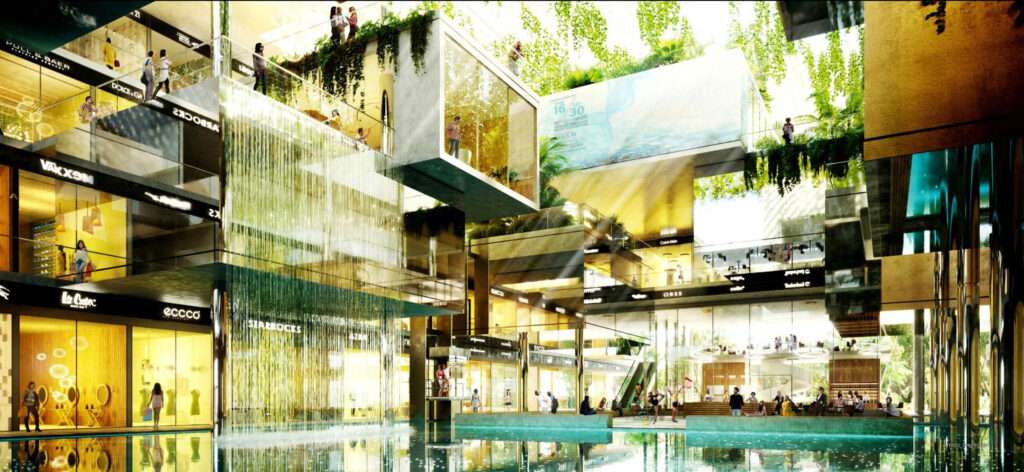 Elan Epic is offering corner plot which is 2 side open with 275 feet wide road and a huge atrium with a large water body.
Parking is major issue these days considering the same this property is offering two-level basement parking.
Foodies will become immense happy when they will see various multi-cuisine restaurants and food courts that offers 100% clean and hygienic food.
Environment is depleting day by day considering the same Elan Epic is offering facility of solar lightning and sewage treatment plant, so that to some extent we humans can conserve our mother earth.
Safety and security is very important considering the same offering multilevel security system with full time CCTV surveillance and property staff assistance.
You will experience good Theater experience with Multiplex 7 silver screens technology.
This property provide retail shops, world-class commercial space, Multiplex on 3rd & 4th Floor lot more exciting things.
Location adding values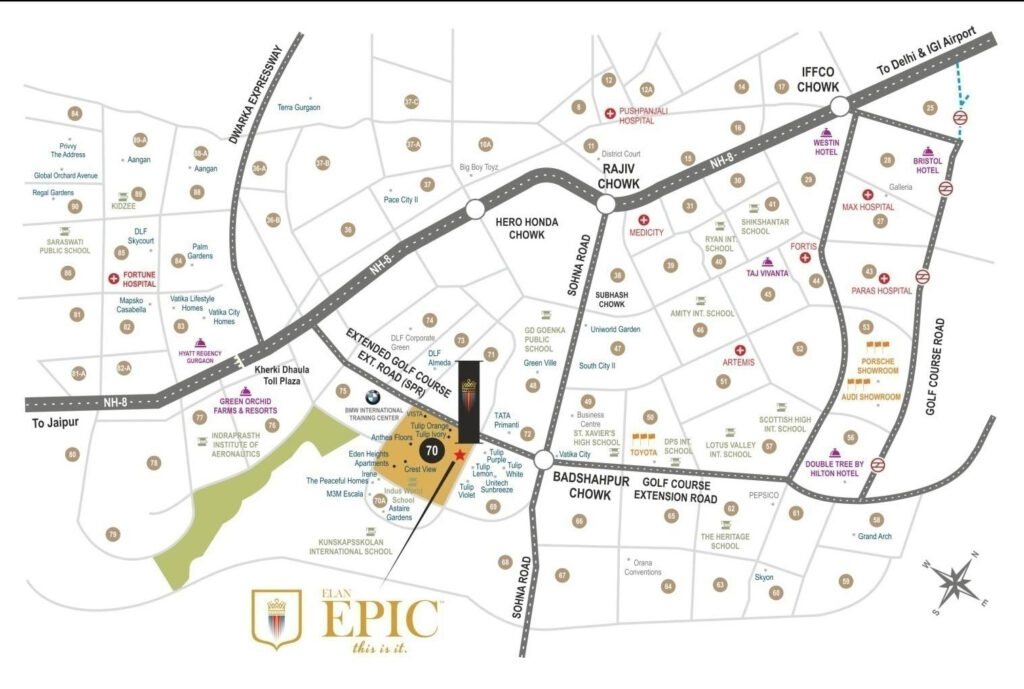 Residential developments within the sector are largely in the form of apartment complexes like Unitech Vista, Krrish Florence Estate, GPL Eden Heights, Tulip Ivory and Shree Vardhman Victoria and lot more.
Southern Peripheral Road, Sohna Road and Golf Course Extension Road connects the sector very smoothly.
Huda City Centre station (Yellow Line) is properly approachable.
Gurugram Railway Station is nearby located from this sector.
Indira Gandhi International Airport is just a drive away.
St. Xavier's High School, DAV Public School, The Paras World School, DPS International, etc are some of the renowned schools in close vicinity.
Park Hospital and Cloudnine Hospital are some of the heath care centers around the corner.
Several office complexes placed on Sohna Road and Golf Course Extension Road, are easily accessible from Sector 70.
Udyog Vihar and Cyber City, which can be accessed in 30-40 minutes from this sector.
This property is one of the best commercial properties offering all kinds of luxurious amenities and prime location. Investment in this property is blindfold decision with higher returns in coming years only. 
What Sets Elan Epic Apart?
Elan Epic, a masterpiece crafted by Elan Group, draws inspiration from the enchanting world of 'Pandora' in the movie Avatar, featuring suspended mountain ranges and lush fauna. Nestled in Sector 70, Gurugram, this RERA-registered property sprawls over 3.5 acres of greenery. Designed by UHA London and ACPL, it presents a blend of retail, food courts, and a multiplex. With a 2-side open corner plot, 275 feet wide roads, and captivating LED lighting, Elan Epic exudes grandeur.
Innovative Design: Nine hanging pods with reflective glass and a 7-screen multiplex elevate the architectural brilliance. The property boasts a central atrium with a stunning water body, musical fountains, and high-speed elevators, ensuring a seamless experience.

Luxurious Amenities: Enjoy multi-cuisine restaurants, hygienic food courts, and solar lighting. The property's commitment to eco-friendliness is evident through its sewage treatment plant. An excellent multilevel security system and full-time CCTV surveillance prioritize your safety.

Prime Location: Sector 70 is well-connected via Southern Peripheral Road, Sohna Road, and Golf Course Extension Road. Proximity to reputed schools, hospitals, and office complexes like Udyog Vihar and Cyber City adds to its allure.
Elan Epic offers a possession-linked payment plan (PLP) with an assured 12% return and an exclusive offer of 25-gram gold with every booking. With its exceptional amenities and strategic location, Elan Epic stands as a lucrative investment opportunity, promising unmatched luxury and remarkable returns in the years to come. Invest wisely with TrueAsset Consultancy, your guide to Gurugram's commercial brilliance!