Sector 84, Gurgaon, Gurugram, Haryana, India
Ready to Move
₹35,000,000 Onwards* - Commercial, Food Court, Retail Shop
M3M Group is offering sone of the best commercial property now they have came up with a unique concept of Shops Cum Office plots in sector 84, gurgaon. The name of this project is M3M SCO 84 this property is located in sector 84, Dwarka Expressway, Gurugram. This location is very best and offering great connectivity all around the city. A SCO introduce to Shop-cum-Office Spaces which is the latest trend followed by business developers nowdays. M3M SCO 84 is offering blend of commercial as well as High Street open Retail shop and offices, designed in very systematic manner. You need to worry about legal compliance because M3M SCO 84 is registered under RERA number GGM/366/98/2019/60 DATED-15.10.2019.
This property is under construction and possession will be offered from October, 2022. In terms of amenities, M3M SCO 84 is offering all kind of top notch facilities you can think off, so that your business can be managed efficiently and effortlessly. The project is spread over vast area of 8 acres of land and almost 20,000 families are living within 5km radius. The Plot Spaces in Multiple Sizes Ranging from 60 Sq.Yd. to 400 Sq.Yd. so that you have option to choose as per your needs and desire.
M3M SCO 84 Price and Size Details
Features of M3M SCO 84
The project offers G+4 with Basement Construction Approved on
The project offers G+4 with Basement Construction Approved on the Site.
There are total 105 commercial plots ranging in Multiple Sizes Ranging from 60 Sq.Yd. to 400 Sq.Yd.
M3M SCO 84 is like a planned Pedestrian Paradise.
This property can be used as Freehold Plot or Build – Use or source of Rental income as per your wish and desire.
Shop modules are very flexible, thus ensuring optimum usage for everyone.
The area where this property is located will cater 5 lakhs people in future.
There is provision of individual Ac unit.
For M3M safety is most important considering the same at M3M SCO 84, there will be multi level security will be provided.
There is beautiful marble flooring in this property which gives very elegant look.
Emergency situation can arise anytime considering the same property is offering emergency exit and firefighting equipment system.
Luxury at M3M SCO 84
There is ATM facility available, so that you never run out of cash.
A central heating system is been installed in this property.
Keeping in mind about the kids safety, M3M SCO84 also providing Daycare Facility, so that people can work or enjoy without any hassle and worries.
For smooth and uninterrupted functioning of business, there is high speed Wifi installed in the property.
There is 24*7 power and water supply.
In NCR parking is an major issue considering that M3M SCO 84 is offering ample parking space for everyone.
Fire alarm for any kind of contingent or emergency situation.
A beautiful swimming pool is also provided, so that you can chill and relax from daily routine hectic work.
For short meeting and catch-up there is cafeteria present.
A beautiful club house is been provided for recreational activities.
There are many national and multinational convenience store at M3M SCO 84.
M3M SCO 84 offering Rainwater Harvesting System in the properties which makes it more environmental friendly.
Location Adding Values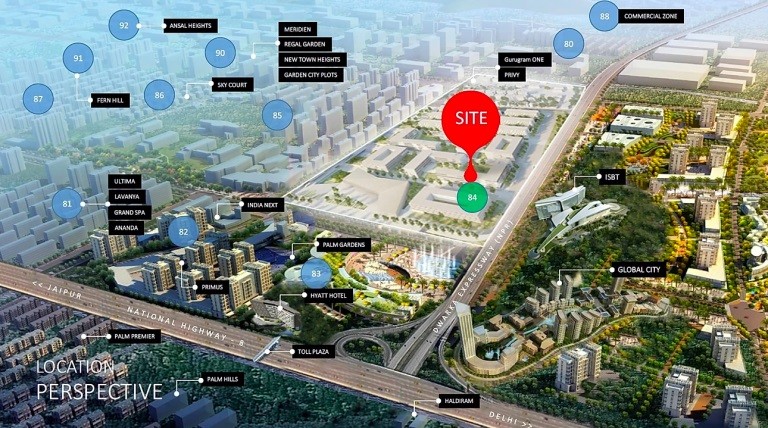 Situated on 150 m wide road NPR.
IGI Airport of Delhi is just a drive away
Promising growth opportunity in the area.
Many more commercial developments to come up in the area soon.
NH8 is next step ahead.
Gurgaon Railway Station is 16 km from the Sector 84.
Dwarka Link-Gurgaon Expressway joins the NH-8 at Kherki Daula associates the Sector-84 to different places of the NCR.
This property is one of the finest commercial property and if you invest your hard earn money in it you will get great returns in coming years only.