Sector 72, Gurgaon, Gurugram, Haryana, India
Ready to Move
₹25,000,000 Onwards* - Luxury Apartment, Residential
As we all know, TATA Group is doing best in every sector and with same motivation they are building luxurious homes for you and your family. Tata Primanti is a newly designed residential project offered by Tata Homes. The property has been located in sector 72, Gurugram. This location offers great connectivity all around the city. The property is offering luxurious 2 & 3BHK Flats in Sector 72 Gurgaon. Tata Primanti floor plan states they are 22 to 40 storey high rise towers. The property is been designed by world class highly experienced professionals.
Every city dweller's dream comes true at Primanti as this property marries the best of modern architecture with beautiful natural landscapes. Located at the Southern Peripheral Road (SPR) in Sector 72, Gurugram, this residential development is spread over an area of 36 acres and offers apartments, duplexes, row houses and villas. Primanti is designed around a series of interconnected orchards, meadows and gardens that span sinuously across the development. The rich flora forms dramatic patterns with stone structures and water features, inspired by Delhi's Mughal gardens. Primanti brings you closer to nature while ensuring seamlessly connectivity with modern world.
The top 2 level penthouse apartments have garden open terraces and the ground floor apartments have 3 bedrooms with attached private garden areas. In terms of amenities also this property is one of the best offering all kinds of premium features. If you are planning to buy ultra-luxurious residential property in the heart of Gurugram then Tata Primanti is one of the best with great returns expected in coming years only.
Tata Primanti Size & Price Details
| | | | | |
| --- | --- | --- | --- | --- |
| Area | 2550 | 2560 | 3320 | 3355 |
| Carpet Area | 1721 | 1729 | 2243 | 2265 |
| Price | 29276550 | 29391360 | 38116920 | 38518755 |
| Other Charges | 1083750 | 1088000 | 1411000 | 1425875 |
| Grand Total | 3,03,60,300 | 3,04,79,360 | 3,95,27,920 | 3,99,44,630 |
| | | |
| --- | --- | --- |
| Area | 4250 | 6105 |
| Carpet Area | 2668 | 3678 |
| Price | 49448750 | 70421175 |
| Other Charges | 1806250 | 2594625 |
| Grand Total | 51255000 | 73015800 |
| | |
| --- | --- |
| Area | 3850 |
| Carpet Area | 2668 |
| Price | 48125000 |
| Other Charges | 1636250 |
| Grand Total | 4,97,61,250 |
| | | |
| --- | --- | --- |
| Area | 7000 | 8500 |
| Price | 84000000 | 102000000 |
| Other Charges | 2975000 | 3612500 |
| Grand Total | 8,69,75,000 | 10,56,12,500 |


All the above prices are as per size area you wish to choose
Premium Features of TATA Primanti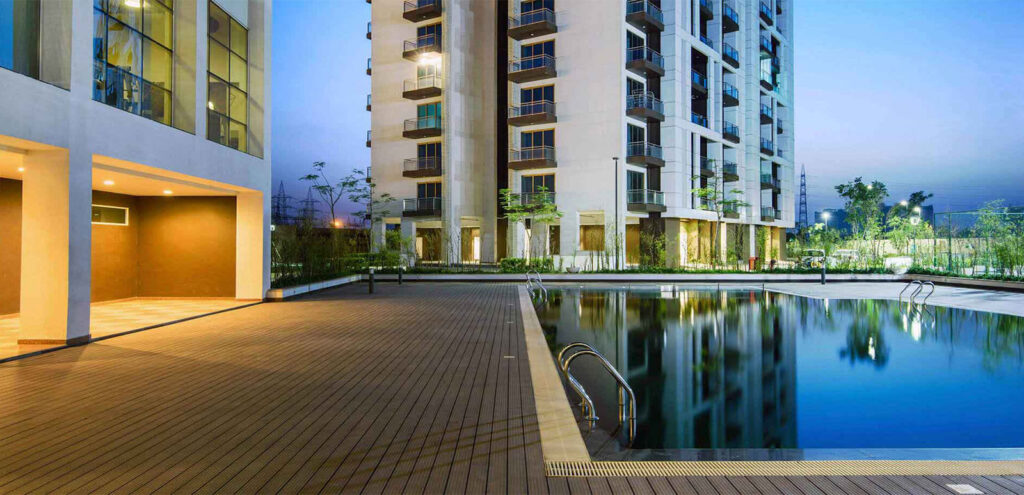 The apartments are 3 size open for complete sunlight and ventilation.
Tata Primanti is offering G+9 and G+11 storey mid-rise buildings.
The property is RERA registered with number 98 OF 2017.
There is facility of Home Automation and Security Controlled Access
The top 2 level penthouse apartments are having gardens with open terraces, so that you can organise parties and functions at terrace only.
A beautiful clubhouse spread over 25,000 Sq feet where you can enjoy with your friends and family.
Parking is very major concern these days considering the same there are Underground basement parking facilities for all residents.
The property is offering different types of parks and gardens like Central Green Park, Mandarin Garden, Open Medows, Manicured Lawna inspired by Mughal architecture.
Safety wise also there is no compromise because TATA Primanti is offering multilevel security system with complete CCTV surveillance with property staff assistance.
The kitchen has been designed in latest modular design with all kinds of facilities that will fun to your cooking.
There is uninterrupted supply of power and water facility at this property.
TATA Primanti is offering 80% of open spaces with flora and fauna.
Richness of TATA Primanti
Sports facilities are ample at TATA Primanti and include various Indoor and Outdoor games facilities like Squash and badminton courts, Tennis court, Table tennis and pool table, Cards room, so that you can enjoy with your friends and family.
A multipurpose hall is been designed where you can easily organise parties and get together with your friends and family.
A beautiful Yoga and Aerobics room are provided with motivational quotes all around.
Gym is very important considering the same TATA developer Primanti is offering world class gym facility with experienced trainer and latest equipment's.
Health and fitness are very important considering the same there are facilities like Spa, Sauna, etc.
Kids will enjoy in this property because there are separate kids playing area with thousands of toys.
A beautiful indoor temperature-controlled pool is provided, so that you can enjoy swimming anytime.
A large entrance lobby is provided which give good first sight impression.
The property is offering jogging track for all jog lovers.
Tata Primanti Location Adding Values
Sohna Road is just nearby located from this location.
SPR, Sohna Road and Golf Course Extension Road all are well connected from this sector.
Yellow Line metro station of Huda City Centre is 8 km away, reachable in around half an hour.
Gurugram Railway station is proximity located.
Indira Gandhi International Airport is just a drive away.
CD International School, DPG Institute of Technology & Management, GD Goenka Public School, etc are in close vicinity.
Malls like Omaxe Celebration Mall, Rodeo Drive Market and Raheja Mall, etc are nearby located from this sector.
Many corporate hubs are around the corner.
This property is one of the best ultra-luxurious residential properties and if you invest your hard earn money in it you will earn great returns in coming years only.