DLF leases 2.4 square feet to Adidas as office space in Gurugram. DLF has been a real estate player for a very long time and has at least over 2 lakh square feet of its area for athletic clothing brands. This is placed in Downtown Gurgaon and the rent of this place is almost rupees 130 per square ft. per month for 9 years. The brand has provided 240000 square ft. for 9 years to Adidas.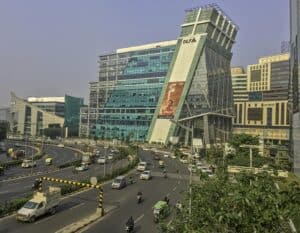 This is a project of DLF Downtown and it is located on National Highway 8. There are two more Towers the first is downtown 2 and the second is downtown 3. These two Towers are complete and fully least. These two Towers has also received occupation certificate as well. Construction on the 3rd Tower is in progress and 829 corporate tenants have already taken the entire area of 1.6 mn square ft. in the two Towers. The third Tower of downtown occupies an area of the tower is 2mn square feet the construction of this Tower will start soon and it will take a time period of 2.5 years to complete.
During the pre-covid 19, some facilities are also provided. Office space leasing is also picking up at a very fast rate and due to covid 19 spaces are here to stay and some companies are still in the process of taking decisions about how much office space they are wishing to lease and on which basis. The basis on which space will be leased is how the trend of flexible offices will plan out in the near future. This will be cleared in the next quarter or two, experts said. DLF rental assets come under DLF Cyber City Developers Limited.
DLF Cyber City Developers Limited is a joint venture between DLF and Singapore's sovereign wealth fund GIC. Nearly 67% stake is under DLF under the DCCDL and the rest is with GIC. The company has also announced that it will develop two large malls and shopping centers as well on a lease model. More than 135 Real estate projects
Real estate projects covering 330 MN square ft. has developed by DLF. The annuity portfolio of DLF group is over 40 mn square feet.